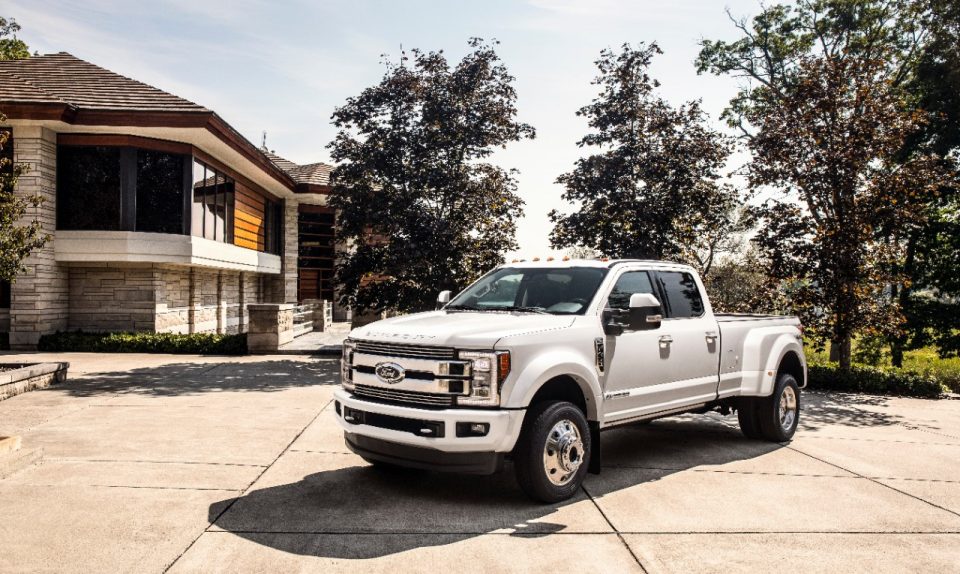 On Thursday, Ford unveiled the most expensive pickup it has ever produced.
F-Series Super Duty Limited
The 2018 F-Series Super Duty Limited model comes packed with features and luxuries that are rivaled only by the company's $450,000 GT supercar. The series is available for F-250, F-350, and F-450 models.
With all options included, the F-450 Super Duty Limited tops out at $94,455. Once you add in taxes and fees, you're looking at a six-figure pickup.
You're getting the best in heavy-duty luxury with one of these trucks. The Super Duty Limited standard features include 360-degree camera coverage to make parking and trailer backup easier, forward collision braking, lane-keeping alert, adaptive cruise control, and panoramic moonroof.
To keep you comfortable on the haul, the truck also includes heated and ventilated leather seats, along with microfiber suede headliner and leather-trimmed heated steering wheel. It even comes with heated rear seats – a feature wintertime passengers are sure to appreciate.
Who's It For?
According to Ford Marketing Manager Todd Eckert, the Super Duty Limited is for those who need the power of a heavy-duty truck in pure luxury form.
"Super Duty Limited is the most luxurious and advanced heavy-duty pickup truck ever created by Ford for accomplished buyers, with appetites for the high life and hard-earned dollars to match," Eckert said.
If you're asking yourself why Ford would create a model that's outside the price range of most Americans, hold your horses. Super Duty Marketing Manager Brian Rathsburg described the model's target customer as someone who tows a six-figure boat, or a trailer with million-dollar horses on board, and is looking for a truck to match.
When You Can See It
Whether you're in the market for an ultra-luxury pickup or not, many Americans will be eager to see Ford's newest high-end masterpiece.
The good news is you won't have to wait long. The 2018 Series Super Duty Limited is set to hit showroom floors across the country by the end of this year.
For More Affordable Options
If dropping that kind of cash on a new pickup isn't your style, there are still plenty of powerful, work-ready trucks available from Ford. The F-250 XL is a favorite, starting at $32,890.
Visit Long Lewis Ford today to get great deals on a huge selection of vehicles that are up for any task.