Living in Hoover and looking for a reason to go explore? Check out these nature hot-spots in town that you should visit today!
Aldridge Gardens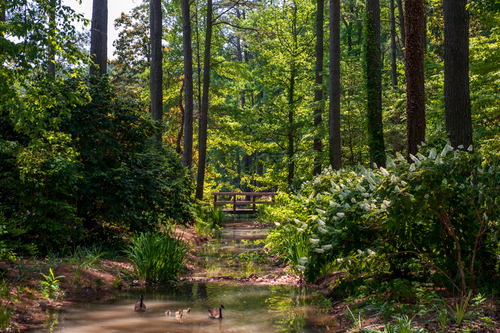 Aldridge Gardens is a 30-acre woodland garden featuring hydrangeas nestled in the heart of Hoover. For many years the property was the home of noted nurseryman Eddie Aldridge, who discovered and patented the Snowflake Hydrangea. Complete with a six-acre lake and walking trail, Aldridge Gardens is laden with many varieties of hydrangeas, camellias and other native Alabama plants.
---
Moss Rock Preserve
A perfect balance of nature and community, Moss Rock Preserve is a beautiful 349 acre nature preserve abundant with forest systems, rock outcroppings, streams, waterfalls, wildlife, and other unique natural features. Currently, Moss Rock Preserve is home to four rare species of plants and a rare variant of Little River Canyon Sandstone Glade that is thought to be one of only 35 occurrences known around the world!
---
Loch Haven Dog Park
This 17-acre park features an off-leash fenced area for small and large dogs alike and their owners. It includes a canine obstacle course, a .4 mile walking track and a covered picnic pavilion with a large recreation field.
No matter which nature hot-spot you decide to visit, Long Lewis can provide the means to get you there!