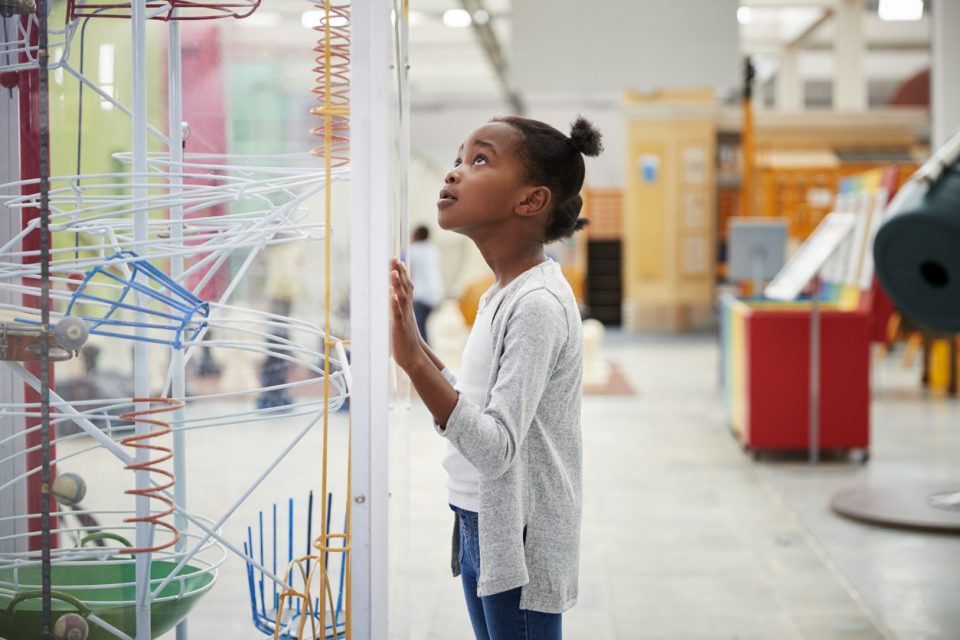 At the intersection of learning and fun, Birmingham's McWane Science Center appeals to visitors of all ages and interests. This popular hands-on science museum features interactive exhibits, educational displays, and games that bridge the gap between education and good old-fashioned play.
Discover McWane Science Center
With four floors to explore, plus an IMAX Dome theater, a gift shop, and lots of special events, Birmingham's McWane Science Center is a Birmingham attraction that never gets boring. If you want to get an overview of the whole venue, here's a rundown of some of the highlights found on each floor:
Lower Level – Shark and Ray Touch Tank, World of Water Aquariums
Level 1 – ScienceQuest, Bubble Room, Rushton Theater, Cool Stuff Store, Smart Café, Race Track
Level 2 – Itty Bitty Magic City, Alabama Dinosaurs, Explore! Museum Collections Center, Sea Monsters, Science on a Sphere
Level 3 – Art and Tech, Featured / Traveling Exhibit
The five-story, 79-foot IMAX Dome shows a variety of films in a breathtaking format. Check the McWane Center website for showtimes and currently running titles.
Museum Details
The McWane Science Center is located at 200 19th Street North, Birmingham, AL 35203. Parking is available in a safe and convenient deck adjacent to the museum, on 2nd Avenue North. You can purchase tickets – museum admission, memberships, and IMAX tickets – either online or at the ticket desk inside. The museum is open seven days a week, 360 days a year. Hours may vary, so make sure to check the website before you go. Ticket prices are as follows:
Adventure Hall – $15 for adults 13 to 64, $12 for kids 2 to 12, $14 for seniors 65+
IMAX – $9 for adults 13 to 64, $8 for kids 2 to 12 and seniors 65+
Combo Ticket – $20 for adults 13 to 64, $15 for kids 2 to 12, $18 for seniors 65+
You might also like: Have You Tried Tropicaleo?
Why People Love It
"This adventure is well worth the drive and cost. So many fun things to do. Come early and spend the day."
"This place is amazing! It was so much fun to explore the exhibits and get hands-on with science. There is so much to do and something for everyone. The Cool Stuff Store has so many neat things to buy!"
"Wow! This place blew my mind! My kids and I spend four hours in this place and I'm not sure we did everything. We watched a film at the IMAX theater and it was amazing. The amount of things they have to get kids and adults interested in science was impressive. I can't say enough good things about this place but I can tell you that it was worth every penny!"